–From Mia's New Owners–
June 18, 2018
I just wanted to give an update on Mia:) She got a little car sick, but made the four hour trek to central New York. She is happy to have a big yard to run around in. And loves her play dates with my parents dog. We have a vet appointment scheduled for her this Friday to get her third round of shots. She is so sweet and we just love her!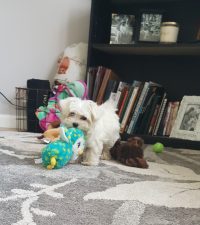 ---
–From Missy's New Owners–
Dear Elon and Anita,
We LOVE the new puppy! She hasn't made one little sound since she went to Mercy, except one tiny yap at supper. She's been making friends all around. What a dear little personality she has! Thank you for taking care of her for us for so long. She was worth the wait on our end.   ~ Dorcas
---
–From Dylan's New Owners–
Hi,
I just wanted to let you know how happy we are with our new puppy, Dylan – we've renamed him Bogey which seems to fit him very well.
He has quite a personality and has loved everyone he's met over the past week (people and dogs!). Our grandchildren and nieces & nephews just adore him, and I believe the feeling is mutual.
Thank you so much!
Jean & Mike
---